Your Guides: Neil Birnbaum and Raydali O'Farrill
---
As a musician and an arts executive, Neil Birnbaum's life's work has been committed to producing and presenting performances at the highest attainable artistic level. Originally from New York, he graduated from the School of the Performing Arts (the backdrop for the movie FAME) and from Manhattan School of Music with a Bachelor of Music. Neil enjoyed a distinguished career as Principal Trumpet of the Honolulu Symphony and a member of the Metropolitan Opera orchestra.
Neil combined his love for music and personal interactions when he embarked on his career in orchestra management. He held executive positions in Southern California, Long Island and Florida before he joined Northwest Sinfonietta in Seattle, one of the nation's pre-eminent chamber orchestras.
In 2012, and again in 2013, Neil brought Northwest Sinfonietta on a tour to Cienfuegos and Havana, as the third U.S. orchestra to visit Cuba, and the first U.S. orchestra to perform side-by-side with a Cuban orchestra since the 1959 Revolution. He has also curated major cultural exchanges bringing high-caliber Cuban musicians and orchestras to perform in the United States.
He has developed many friendships in Cuba and enjoys close personal relationships with many of Cuba's elite artists and jazz royalty. He has expert and first-hand knowledge of the highest level of artistry in all genres of Cuban music discovering that some of the finest artists in the world have been a well-kept secret right in our own backyard.
His knowledge and relationships provide CR&V delegation members intimate glimpses into the hearts and souls of the Cuban dancers, singers, musicians, visual artists and teachers who share their lives with them.
Neil co-founded CR&V in 2014 with Woody Wilson, offering licensed cultural explorations of Cuba. Since its inception, CRV has offered several trips each year, bringing cultural delegations from performing organizations such as Bremerton (WA) Symphony Orchestra, Boulder Philharmonic, Fayetteville (NC) Symphony, Jazz Arts Group (Columbus, OH) Lakeshore Music (Tempe, AZ), McConnell Arts Center (Worthington, OH) Puerto Rico Symphony, Scottsdale Center for the Performing Arts, Shreveport Symphony and more.
---
Raydali O'Farrill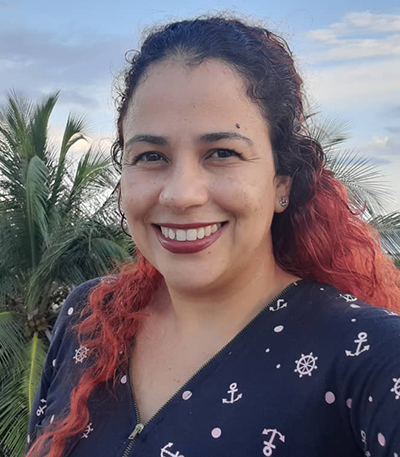 Raydali (Ry) O'Farrill is an accomplished Cuban tour guide who has been leading and organizing trips all over Cuba for more than 12 years. She joined CR&V in 2016.
Graduating from the University of Havana with a BA degree in English and French Languages, her first role in hotel management set the tone for her career. After completing postgraduate studies at Havana's School of Hospitality and Tourism, she began to work for Havanatur, a part of Cuba's tourism monopoly.
Armed with outstanding fluency in English, a passion for her trade, innate curiosity and love for fun, her goal is to elevate and enhance the Cuban experience, creating cherished memories that will last a lifetime and will make people want to return.
She is truly an expert in all things Cuban and a strong advocate and admirer of Cuban visual arts. Being part of many artists' inner circle, she is always willing to offer insider knowledge into the world of most Cuba-based visual artists nowadays, both established and novelle. All this together makes her the person to be with when looking for a taste of Cuban contemporary art.
Having traveled up and down the country more times than she can count, she knows practically every corner of the island, but Havana, where she has lived most of her life, is her favorite city.
Ry is always quick with a helping hand and a smile. She has a great sense of humor, loves salsa dance, and makes everyone feel special. This is why she is often referred to as CR&Vs secret sauce. But most importantly, she is always happy to share the real Cuba with you.